Registration as Limited Co.

1974

Listed in Stock Exchange 1984

Registration as Public co. Ltd.

1993

Registered Capital

202 Million Baht

Production Commenced on

1976

2nd line Expansion

1989

3rd line Expansion

1995

4 th line Expansion

2007

5 th line Expansion 2008
Carbon-di Sulphide Plant 2008




The Aditya Birla Group: A Premium Global Corporation
A US $41 billion (Rs. 2,50,000 crore) corporation, the Aditya Birla Group is in the League of Fortune 500. Anchored by an extraordinary force of over 120,000 employees, belonging to 42 nationalities. Over 50 per cent of its revenues flow from its overseas operations spanning 36 countries.
The Aditya Birla Group has been ranked fourth in the world and first in Asia Pacific in the 'Top Companies for Leaders' study 2011, conducted by Aon Hewitt, Fortune Magazine and RBL (a strategic HR and leadership Advisory firm). The Group has topped the Nielsen's Corporate Image Monitor 2014-15 and emerged as the Number one corporate, the 'Best in Class', for the third consecutive year.
Globally, the Aditya Birla Group is:
A metals powerhouse, among the world's most cost-efficient aluminium and copper producers. Hindalco-Novelis is the largest aluminium rolling company. It is one of the three biggest producers of primary aluminium in Asia, with the largest single location copper smelter
No.1 in viscose staple fibre
No.1 in carbon black
The fourth-largest producer of insulators
The fifth-largest producer of acrylic fibre
Among the top 5 cement producers globally
Among the best energy-efficient fertiliser plants
The largest Indian MNC with manufacturing operations in the USA, wherein 95 per cent of the workforce comprises of Americans
Aditya Birla Group - The Indian Scenario
Aditya Birla Group - Beyond Business
Reaches out annually to 7.5 million people through the Aditya Birla Centre for Community Initiatives and Rural Development, spearheaded by Mrs. Rajashree Birla.
Works in 5,000 villages globally.
Focuses on: health-care, education, the girl child, sustainable livelihood, women empowerment projects, infrastructure and espousing social reform.
Runs 42 schools which provide quality education to 45,000 children. Of these 18,000 students belong to the underprivileged segment. Merit Scholarships are given to 24,000 children from the interiors.
Its 18 hospitals tend to more than a million villagers.
Ongoing education, healthcare and sustainable livelihood projects in Philippines, Thailand, Indonesia, Egypt, Korea and Brazil, lift thousands of people out of poverty.
Set up the Aditya Birla India Centre at the London Business School.
The Aditya Birla Group transcends conventional barriers of business because we care. We believe it is our duty to facilitate inclusive growth as well.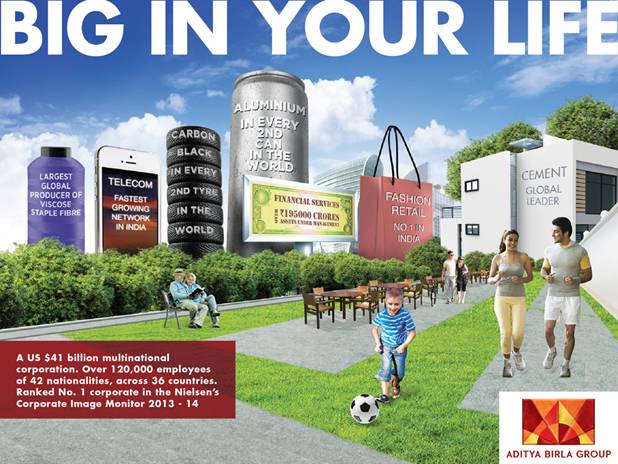 TEXTILES: Pulp, Fibre, YARN, FABRIC AND APPAREL
Aditya Birla Group is the largest global producer of viscose staple fibre
Its pulp and manufacturing plants crisscross Canada, Sweden, China, Indonesia, India and Thailand
Birla Cellulose constantly drives innovation
The Group has dedicated R&D facilities spanning plantation to fashion
LIVA, the magic fluid fabric from Grasim, a group company is a favourite with fashion designers
NON-FERROUS METALS: Hindalco
One of the leading producers of aluminium and copper in Asia
Aditya Birla's Hindalco is one of the largest single location custom copper smelters in the world.
Aditya Birla's Hindalco is the largest primary gold producer in India
Novelis: A SUBSIDIARY OF HINDALCO
Aditya Birla Group's Novelis has operations in four continents - Europe, Asia, North America and South America
Novelis is the world's largest single producer of rolled aluminium; the industry leader
World's largest producer of aluminium for the beverage can market
Also global leader in recycling and world's No. 1 recycler of used beverage cans
Novelis recycles over 60 billion cans a year - enough to circle the planet more than 150 times
40 years' global leadership experience in the automotive industry
Novelis supplies automotive aluminium sheet to 180 current vehicle models
Sole aluminium supplier to Jaguar Land Rover
Novelis is the lead supplier to the aluminium-bodied Ford F-150 and Super Duty truck programs, the best-selling trucks in the world
Aluminium supplier to leading OEMs including General Motors, Audi and Volkswagen
Novelis supplies architectural aluminium to the world's most iconic buildings including the ING Bank in the Netherlands; The Cube in Great Britain; and the Science and Technology Park in Qatar
CEMENT: UltraTech, A SUBSIDIARY OF GRASIM
Among global leaders in cement
No. 1 producer in India of ready mix concrete, grey and white cement
Aditya Birla Ultratech's cement used to develop some of India's most prominent landmarks including:

Santa Cruz - Chembur Link Road, Mumbai
Bandra - Worli Sea Link, Mumbai
Mumbai International Airport Terminal 2
Metro Rail Projects - across the country
Rajasthan Atomic Power Project
Gosikhurd Dam, Maharashtra
Mumbai Freeway
4000 MW Coastal Gujarat Power Project
19 kms Yeshwantpur - Nelamangala Six-Lane Expressway, Karnataka
Pimpalgaon - Nasik - Gonde Road Project, Maharashtra

2.7 million bags dispatched daily
CarboN BLACK: BIRLA CARBON
World's number 1 producer of Carbon Black
Every second car in the world runs on a tyre made with Carbon Black from Birla Carbon
TELECOM: Idea
No. 6 ranked operator in the world by subscribers (based on single country operations)
3rd largest mobile operator in India
Serving over 180 million subscribers
Over 2 billion minutes of conversation daily
Over 1 billion megabytes of internet data daily
Financial Services: ADITYA BIRLA FINANCIAL SERVICES
One of the largest non bank financial services conglomerate
Ranks among the top 5 fund managers in India (Excluding LIC)
Assets Under Management of over 195,000 crores
8.8 million customers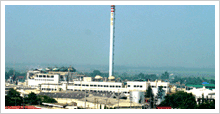 Promoted by Grasim Industries Ltd, India and Local Thai entrepreneurs, Thai Rayon was incorporated in 1974. Thai Rayon is the pioneer as well as sole manufacturer of viscose staple fibre (VSF) in Thailand and is listed on the Thailand Stock Exchange since 1984.
More ...