Registration as Limited Co.

1974

Listed in Stock Exchange 1984

Registration as Public co. Ltd.

1993

Registered Capital

202 Million Baht

Production Commenced on

1976
2nd line Expansion

1989

3rd line Expansion

1995

4 th line Expansion

2007
5 th line Expansion 2008
Carbon-di Sulphide Plant 2008




About Us >
Management Team

1. Mr. Munish Kumar Rathi
President
2. Mr. Prasan Sipani
President (Strategy & Planning)
3. Mr. Manish Jain
Vice President (Technical)
4. Mr. Santosh Pati Tripathi
Vice President (Finance & Commercial)
5. Mr. Paisan Virojpakorn
Vice President (Human Resources)




A US $28 billion premium conglomerate,the Aditya Birla Group
is in the League of Fortune 500. It is anchored by an extraordinary force of 100,000 employees, belonging to 25 different nationalities. More ...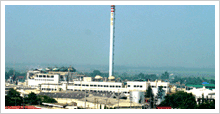 Promoted by Grasim Industries Ltd, India and Local Thai entrepreneurs, Thai Rayon was incorporated in 1974. More ...