Registration as Limited Co.

1974

Listed in Stock Exchange 1984

Registration as Public co. Ltd.

1993

Registered Capital

202 Million Baht

Production Commenced on

1976

2nd line Expansion

1989

3rd line Expansion

1995

4 th line Expansion

2007

5 th line Expansion 2008
Carbon-di Sulphide Plant 2008


About Us >
Vision / Mission / Values

OUR GROUP VISION

To be a premium global conglomerate with a clear focus on each business.

OUR GROUP MISSION

To deliver superior value to our customers, shareholders, employees and society at large.

OUR COMPANY VISION

" To be the Global Leader in man-made cellulosic fibre industry."
OUR COMPANY MISSION

We aim to create superior and sustainable value for all our stake-holders maintaining the largest market share in man-made cellulosic fibre industry globally through
Innovation in products and processes,
Excellence in quality, service, people development and
focus on environment friendliness in all our activities.
GROUP VALUES
Integrity - Honesty in every action
Acting and taking decisions in a manner that these are fair, honest, following the highest standards of professionalism and are also perceived to be so. Integrity for us means not only financial and intellectual integrity, but in all other forms as are commonly used.

Commitment - Deliver on promise
On the foundation of Integrity, doing whatever it takes to deliver value to all stakeholders. In the process, taking ownership for our own actions and decisions, those of our team and that part of the organization that we are responsible for.

Passion - Energized action
A missionary zeal arising out of emotional engagement with the organization that makes work joyful and inspires each one to give or her best .Relentless pursuit of goals and objectives with the highest level of energy and enthusiasm, that is voluntary and spontaneous.

Seamlessness - Boundary less in letter and spirit
Thinking and working together across functional silos, hierarchies, businesses and geographies. Leveraging the available diversity to garner synergy benefits and promote oneness through sharing and collaborative efforts.

Speed - One step ahead always
Responding to internal and external customers with sense of urgency. Continuously seeking to crash timelines and choosing the right rhythm to optimize organization efficiencies.




A US$ 29 billion corporation, the Aditya Birla Group
is in the League of Fortune 500. It is anchored by an extraordinary force of 130,600 employees, belonging to 40 different nationalities. More ...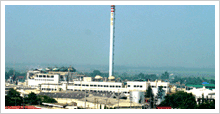 Promoted by Grasim Industries Ltd, India and Local Thai entrepreneurs, Thai Rayon was incorporated in 1974. More ...